Bukhatir Education Advancement and Management International
Based in Sharjah, Bukhatir Education Advancement & Management (BEAM) is a renowned educational establishment with extensive experience in developing successful learning institutions and implementing advanced educational management and training systems in the United Arab Emirates.
The primary aim behind all of BEAM's efforts is to ensure that our students will finally achieve success, as each of them defines it, so that each student will believe in himself or herself and will feel equipped for practical life after school.
More importantly, our educational institutions coach students in the best ways to dutifully serve their country as well as to live peacefully and cooperatively with their fellow citizens.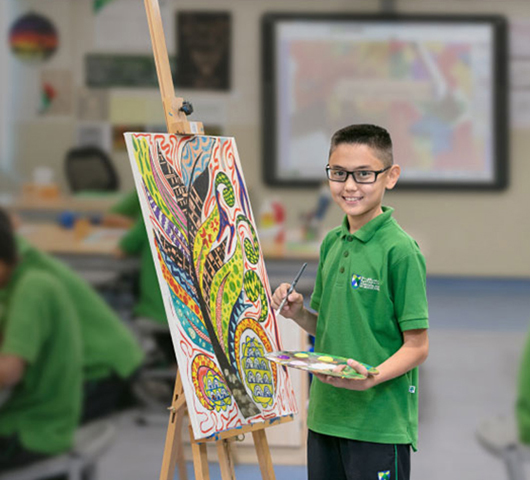 Vision
Lighting the way, to excellence rooted in faith, cultivating life-long learners and global citizens equipped with a moral compass.
Mission
To ignite a passion for learning, by creating an inclusive community which fosters virtues, innovation, and best practices, focused on achieving successful outcomes for all our students.
Our Values
Integrity.
Tolerance.
Collaboration.
Courage.
Compassion.
Our Approach
Through our four internationally accredited schools that offer American or British curricula in the UAE, we've established a regional reputation for redefining the way education is delivered by educators and received by students.
We strongly believe in the United Nations' approach to inclusion and diversity in our schools - which have 50+ student nationalities, from across the globe.
We take pride in carrying out the education industry's top innovative learning programs - such as Visible Learning, the three-year school program where the educators witness learning through the eyes of students, while students simultaneously see themselves as their own teachers and leaders.
BEAM schools consistently strive to have a global outlook whilst maintaining a culturally relevant and faith-based approach to education. Therefore, all our achievements are the direct outcome of fostering a unique blend of international best educational practices, combined with a strong foundation of Islamic morals and values.
Beyond Curriculum!
At our educational institutions, we go beyond a curriculum-based learning program to offer a wide-ranging extracurricular program that keeps students engaged through interactive classroom learning, meaningful sports and entertainment activities.
Moreover, our unique management approach aims to prepare each student for adult life. We encourage students to be both creative and innovative, through participating in several activities purely for fun, practicing their hobbies, developing their interests, and, most importantly, making new friends. In a word, we endeavor to help them build confidence and self-belief.
Rewards, Prizes, Achievements
BEAM, has time after time, been rewarded for the passionate attitude we've always fostered about learning and developing the talents, skills, and qualities of students. Among the prizes we've won are:
The Outstanding Pearson Learner Awards and Best Distinguished School Award by Sharjah Education council. The International School of Creative Science Muwaileh, was awarded the highest accolade of Distinguished School and Distinguished Teacher in UAE in the Sharjah Award for Excellence in Education. The International School of Creative Science Nad Al Sheba was rated Good from the first visit of the KHDA Dubai School Inspection Bureau team.
The American School of Creative Science Maliha is now the only school in Sharjah and the Northern Emirates to be accredited by NEASC.
BEAM's Creative Science Schools (ISCS and ASCS), are currently the only holders of the Promethean Award in the Middle East and UAE. This award is bestowed following a yearly evaluation by a team from Promethean UK, which not only assesses technology adoption, but also how it is leveraged to deliver maximum Teaching and Learning impact.
BEAM's distinction has also been recognized by the holding group, Bukhatir Group. Taqdeer, is an annual prestigious award ceremony that sheds light on the hidden talents and value-driven employees, teams and companies within the Group. It also offers the opportunity for people to be motivated and inspired by people across different business units. BEAM has landed several accolades and was awarded the Team of the Year award, the Inspirers award, the Change Makers award and the Employer of Choice award.
Our Future Expansion
BEAM represents the convergence of Bukhatir Group's decade long experience in developing successful educational institutions and implementing advanced educational management systems in the UAE.
BEAM is leading the deployment of unique concepts and management expertise in the education sector across segments. The senior management of BEAM brings a combined experience, spanning decades of regional and international leadership in the establishment, growth and successful management of academic institutions.
BEAM is most widely known for its excellence in operating Creative Science Schools across Dubai and Sharjah. Our British and American curriculum schools operate under the banner of International School of Creative Science and American School of Creative Science, respectively.
BEAM has rapidly expanded its footprint and offerings across the UAE. In keeping with the tradition of "Excellence Rooted in Values", BEAM operates and manages 5 schools across UAE namely:
International School of Creative Science Muwaileh, Sharjah
American School of Creative Science Maliha, Sharjah
American School of Creative Science Nad Al Sheba, Dubai
International School of Creative Science Nad Al-Sheba, Dubai
Khalifah Al Hamzah American School Al Madam, Sharjah, based on a Public-Private Partnership between Beam and Sharjah Education Council (SEC) in Al Madam.
All our campuses are being operated with the same commitment to striving for excellence.
In the future, we'll keep our endeavors to make each of our educational institutions an inclusive, supportive community that prides itself on academic excellence, a strong work ethic and enjoyment of learning.
As for BEAM, we will turn it into a world-class learning institution, the best in the United Arab Emirates, the Middle East and beyond.
Visit Website